Theophrastus Workshop Details:
Date: Thursday, October 12th, 2023
Time: 8:00am – 10:00am PDT (11:00am – 1:00pm EDT)
Location: Online via Zoom
Cost: $20
Difficulty: This workshop will be conducted in Ancient Greek. Upper-intermediate Greek knowledge is a minimum requirement.
Cancellation policy: Full refund available before October 1st. No refunds afterwards.
The moment you begin learning Ancient Greek, Athens looms as an inevitable stop along the road, regardless of your final destination. However, usually, when we think of Athens, we think of the flourishing Athens of Pericles, of Socrates' small circle of students engaged in philosophical discussions, or of the great orators delivering their crafty speeches in the midst of the Agora. But where is everyone else? Weren't there also ordinary people in Athens, and if so, can we find out more about their lives from our sources?
The answer to these questions is naturally yes, and there are many sources that tell us about the everyday life of Athens in the Classical Period and beyond. One of the more accessible such works to the late-intermediate and advanced student of Ancient Greek is the "ἠθικοὶ χαρακτῆρες", by Theophrastus, who was one of Aristotle's most diligent students and also his successor as the head of the Lyceum. Written somewhere at the end of the 4th century B.C., the Characters (as it's often translated) caricatures different human types that Theophrastus encountered: the Bumpkin, the Flatterer, the Superstitious, and many others. This work not only offers insight into the everyday life of the Athenians of that period, but also presents a copious source of idiomatic Greek, phrases and expressions that every serious student of Ancient Greek should be familiar with. Further, Theophrastus' Characters is more than a sociological or philological curiosity. It is the work of a philosopher, and so, in a sly and unassuming way, these depictions of human types are an invitation to philosophic life.
This workshop will be the first in a series working through Theophrastus' Characters (not necessarily in order) in which we will focus on those idioms and we will try to understand how they function in context, in order to dig deeper into the way Greeks themselves thought of their language and expressed their ideas. We will also look into the relationship of the character of Theophrastus' Greek with that of earlier Classical Period authors.
Attendance is limited to 12 students max in order to preserve a small, collegial atmosphere. So, if you're interested, don't hesitate. Sign up, and we look forward to seeing you on October 12th!
---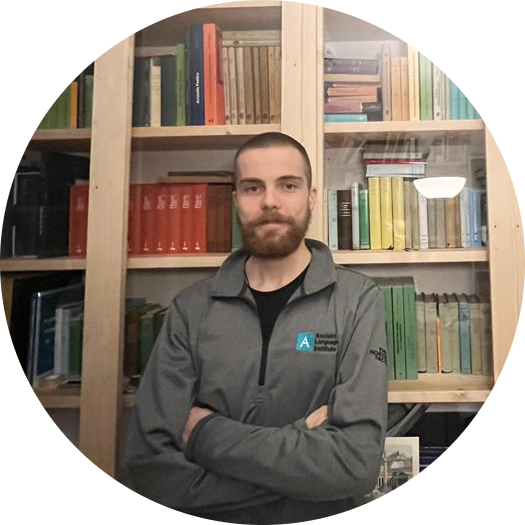 Vladimir Chiurlea, our Ancient Greek & Latin Fellow, was born in the wild city of Bucharest, Romania. While completing his BA in Byzantine Music, he caught the fever of Ancient Greek and is yet to recover. When he is not teaching and reading Ancient Greek, he is roaming the streets and parks of Romania spreading the contagion of Greek poetry. He has experience teaching Ancient Greek to total beginners and advanced students both online and in-person.
---
Ancient Greek Workshop
Sign up for an Ancient Greek Workshop to read some of the greatest Greek texts with the expert guidance of an ALI Fellow.